making space for
pain, resilience and care
within our community
The Project

Launched October 2nd, 2020
Blcok making ends ~ April 2021

Our experiences of COVID-19 have been and continue to be unequal. Some people lost jobs, some work overtime in harm's way, some have died, and others have recovered. We are facing the global pandemic here - in our community. Wearing a mask is one way we show care for those around us. We wear them to protect others.

We are making a community quilt based on the form of a mask! This is an opportunity to come together - while apart - and make something that will remain as a memorial, acknowledge inequality, and act as a starting point for healing.


WHAT
A free community art project!
Contribute a quilt block to the quilt, which will be displayed publicly in the community. Quilt blocks will also be documented virtually on this website - see The Quilt.

WHERE
Cambridge, Kitchener and Waterloo, ON

WHO
Everyone, young and old, who live, works, studies or has been displaced from the area due to COVID-19.

WHY
We're making space for pain, resilience and care within our community.

WHEN
Multi-month project, 2020-2021*
*Quilt block making will end ~ April 2021

HOW
Pick up a quilt block kit locally or make a block from home following simple instructions! Check back regularly to find out about upcoming workshops.

74
BLOCKS
SUBMITTED
Land Acknowledgement

The Tri-City area of land that constitutes the cities of Cambridge, Kitchener, and Waterloo is located along O:se Kenhionhata:tie, also known as the Grand River. This land is part of the Haldimand Tract, land that was promised to the Six Nations, and includes 10km on either side of the river. This is the traditional territory of the Anishnabeg, Attawandaron (Neutral) and Haudenosaunee peoples.
Support

Numerous individuals, local businesses and organizations have played a role in helping shape and bring this project to life. This wouldn't be possible without the generosity of our community, through sharing knowledge, time, and materials. Thank you all!

From Behind the Mask was selected as in December 2020 to receive funding from the Region of Waterloo Arts Fund. We are very grateful for their financial contribution to this community art & architecture project!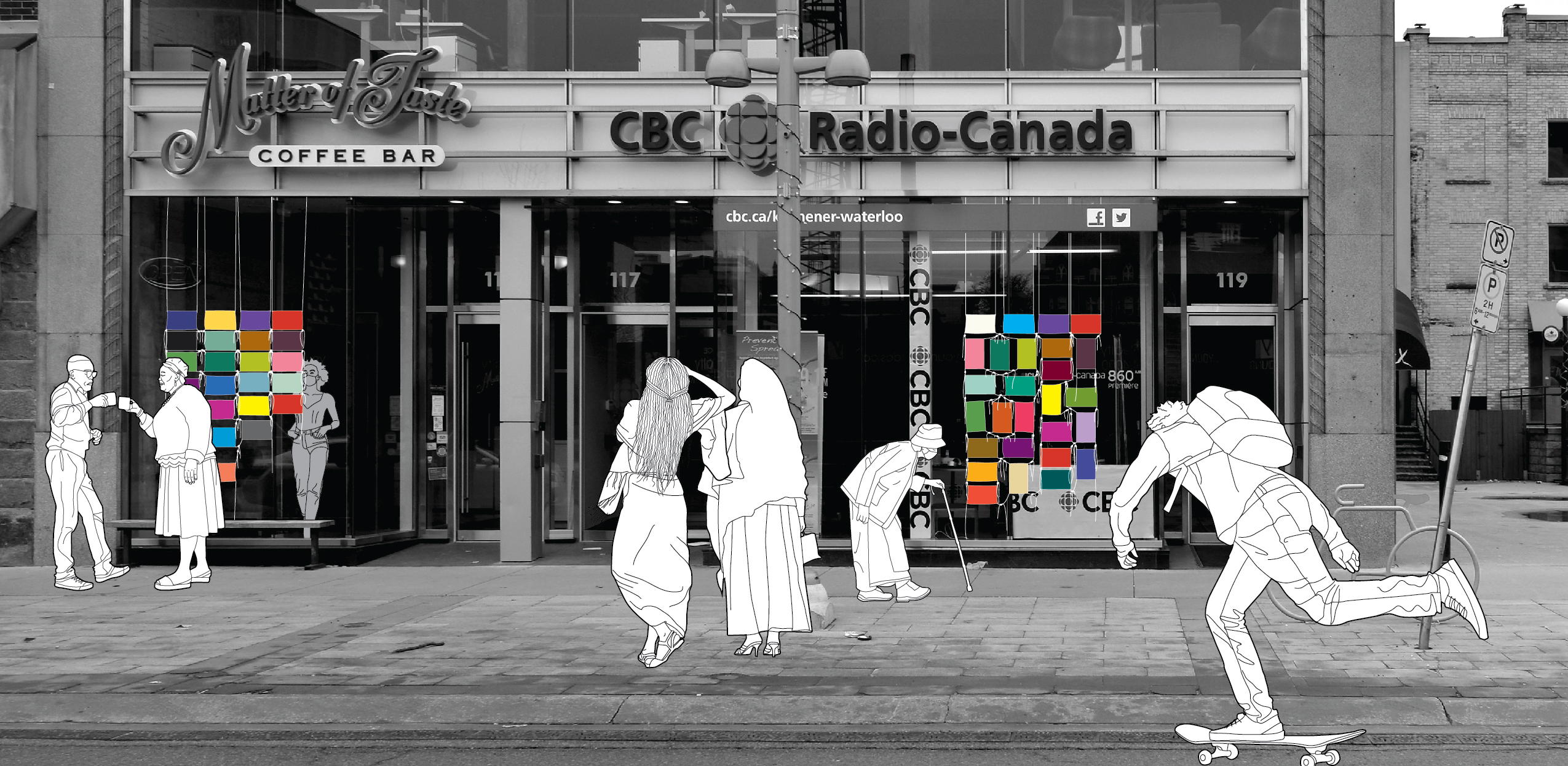 make a
block
Options


There are a few ways you can contribute a quilt block. No quilting/sewing experience required! You can use glue (also good for young kids) or needle + thread.

- Pick up a kit (location)
- Do-it-from-home
- Workshops (coming soon)
- Piece a block (quilters) - 5.5" x 8.5"* block + back panel. See instructions for prompt.
*unfinished size, allow 0.5" seam allowance in design

*Note: The physical assembly and quilting of the blocks will be done by coodinator + volunteers. If you'd like to be involved in assembly please reach out!



Quilt Block Kit

Each kit includes: base fabric rectangles x2, assorted fabric scraps, yarn, needle + thread and
instructions
. See
pick-up
to find a location near you.
Do-It-From-Home
Make a quilt block without a kit by cutting your own base fabric. Fold a peice a paper in half (making a 'hamburger fold') to use as cutting template. Cut 2 fabric rectangles measuring 5.5" x 8.5."
Then follow the
Instructions
below. When finished,
mail in
your block or drop off at a
local business
. Text format + image-based instructions are available.
instructions



Instructions (form included in kit):
Click to enlarge





Text Format Instructions:

From Behind The Mask
A Community Quilt of COVID-19 Stories

Page 1:



The Project

We are all experiencing the pandemic in different ways. From Behind the Mask looks to uncover the stories of our community during this time. We use a quilt as the form-work for these stories. The quilt uses a simple rectangular block - symbolic of the mask. The blocks will be tied together, showing our physical distance and representing our social ties.

This is an opportunity to come together - while apart - and make something that will remain as a memorial, acknowledge inequality, and act as a starting point for healing.

Thank you for adding your story to the community quilt!

*Note: This is a public project, please make sure to use appropriate language/images.


When Finished

Place all pieces back in the envelope (including leftover scraps, thread, needle, and this instruction card with your quilt block format indicated on the back), and return. Check for

collection locations

on the website or

mail the envelope

to the pre-written address. It takes a regular postage stamp (or an overweight mail stamp if more than 30gms).

What Next

Once your quilt block pieces are returned, they will be assembled by quilting volunteers. Once complete, it will be photographed and added to the

From Behind the Mask

online gallery of quilt blocks! Check out the project online, and keep watch in your city to see where quilt pieces are being displayed.




Page 2:



The Prompt

From when the pandemic started, back in March, until now, what has changed the most in your life?

Instructions

*Please only complete 1 quilt block for this project*

Included in the kit are two large fabric rectangles, decide which is the

'front'

and

'back'

piece of your block. (You can chose either portrait or landscape format) Decorate only one side of each, do not alter their size or shape. Leave the edges of the pieces clear for assembly (approximately the width of your thumb). *Do not sew the front/back pieces together.

On the

front

fabric:
Create an image based on the prompt

You can use any/all of the assorted scrap fabrics and yarn included in this kit.

You can use paint, markers, pens, and/or additional re-purposed materials you have. *Avoid adding heavy items (buttons, metal, etc).

Stitch with needle + thread (included) or use white glue to attach your image to the base fabric.

*If you are a quilter you can piece a quilt block to the same dimensions: 5.5" x 8.5," (seam allowance 0.5")
On the
back
fabric:
With a marker or pen please write the name of your city (add your current location if you've been displaced from Cambridge, Kitchener or Waterloo due to COVID-19).

Optional: write your name, a sentence, phrase, poem (or dedication) in reflection to the prompt.

"Anonymous" will be written on blocks without names.
Your Design
Check the box that indicates your quilt block's orientation below (portrait or landscape). (Optional) Sketch your design below to indicate which edge is the 'top.'
(If completed without a kit, just slip a note inside if you'd like).
pick-up
JANUARY Update:
Please request a kit by mail using the form below - kits will return to physical locations in February.
You can also access the form in a new window
here
.
Mail-Back
You can also mail back your kit with regular
postage ($1-$2 depending on weight) to:
Brenda Reid
PO Box 26035 College PO.
Kitchener ON
N2G 0A4
---
Quilt block kits can be picked-up and returned at these locations:
Cambridge
Brick + Mortar General Store, 20 Grand Ave.

website

Cambridge Self-Help Food Bank, 54 Ainsle St. S.

website

Idea Exchange Branches,

website
Preston, 435 King St. E.

Hespeler, 5 Tannery St. E.

Clemens Hill, 50 Saginaw Parkway

Queen's Square, 1 North Square

Old Post Office, 12 Water St. S

.
Kitchener
Cafe Pyrus, 305 King St W.

website


Cafe Pyrus Outpost, 150 Roger St.

website


KW Bookstore, 308 King St. W.

website


The Adventurer's Café, 36 Ontario St. N.,

website


Homer Watson House & Gallery, 1754 Old Mill Rd.

website


THEMUSEUM, 10 King St. W. (Currently Closed)
website
Waterloo
Waterloo Public Library Branches,

website
Main Branch (children's department, lower level), 35 Albert St.

McCormick Branch, 500 Parkside Dr.

John M Harper Branch, 500 Fischer-Hallman Rd.
FAQ

Frequently Asked Questions
Browse the questions below, if your question hasn't been asked, shoot us an email.




QUILT KITS/BLOCKS

Do I need to know how to sew?

No! There is no sewing experience required. This is a "no skills" required project designed to be as inclusive as we can. You can paint, glue, use pencil crayon - get creative!

Can I make more than one?

Please only contribute one quilt block per person for this project. We aim to tell as many different stories as we can. If you have the quilting bug, we suggest starting your own mini pandemic quilt!

Do I need one of the kits?

No, you are welcome to make your own block from home using old/under used fabric. Learn how to quickly cut your own material

here

, and see the project instructions

here

!

Where can I get a kit?

Kits can be found at a number of local businesses throughout Kitchener-WAterloo and Cambridge. See the

pick-up

for locations and the business' details

Do I sew/quilt the block pieces together?

No, please leave the front and back fabric pieces seperate when you return them. The blocks are constructed in a unique way for this project and will be assembled by the project co-ordinator and volunteers.

*If you alread have attached them, don't panic. We'll translate the text on the back onto a new back fabric rectangle and sew together!

I'm part of a group - how can we participate?

We can make up kits for groups either individually packaged (to completed together over zoom) or as a box of supplies (suitable for classes). Please

reach out

to coordinate, and let us know how many people the kits are for!

DEADLINES/DATES

What is the deadline for returning quilt blocks?

There is currently no hard deadline for submitting your quilt block. We're aiming towards having quilt block making wrap up around

April 2021

.

Where can I see the quilt blocks that have been submitted?

We display the incoming quilt blocks right in our

Instagram stories

! Once we've sewn them and photographed them, they appear on our virtual interactive

quilt gallery

!

When will the quilt be displayed?

We are aiming to display the full quilt over the summer of 2021.

Where will the quilt be displayed?

The final quilt will be displayed in publically accessible locations, travelling between Cambridge, Kitchener and Waterloo. These will be free to the public, acessible, and on public transit routes.

Segments of the quilt will be installed in windows of different public locations prior to the larger installation. Details to come!

DETAILS

Do I have to live here to participate?

The project is open to everyone who lives, works, and studies in the area known as Cambridge, Kitchener and Waterloo. This also includes people of this community who have been displaced from the area due to COVID-19, (ex. post-secondary students).

We've tried to keep it very open to the people who's lives are rooted in this place, the place we face this pandemic together.

Where can I find out more about the project and how it got started?

We've now done a few interviews and have been featured in local news and print! Please see our

media page

for links to articles and videos.

How can I donate fabric to the project?Please email

if you have fabric to donate. We are looking for:
Quilt fabric scraps

Large plain fabric*
*old bedsheets/table cloths are perfect. We're looking to save material that would otherwise head to a landfill. Small holes and rips are ok!
How else can I get involved?
Volunteer opportunities are currently being arranged for the begninning of 2021.
We'd love to bring the project to more people, and that's where you come in! We need help in the following areas, please
reach out
if you're interested!
Assembling kits
Sewing blocks (experience req'd)
Preping/cutting fabric
Sewing straps (making bias tape)